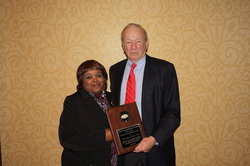 Charles Stewart Mott Award
This is the highest award made by ACEA in memory of the person who started community education in Flint, Michigan, in the 1930's. Charles Stewart Mott, who once stated "Let us be known by our deeds," left a legacy far greater than the General Motors
Corporation he helped found. The Mott Foundation continues to this day to be a national and international leader in promoting democratic ideals, which include community education, grass-roots citizen participation, and global awareness of man and his close relationship to the good earth. The recipient of the Charles Stewart Mott Award for 2012 is the Birmingham Rotary Club. The Birmingham Rotary Club provided the funding for a summer camp at South Hampton Elementary School. This is the school that serves the children of the Pratt City Community that was totally destroyed in the April 27th tornado. The Rotary Club wanted
these children to be able to have a place to go from 7:30 in the morning until 5:30 in the evening and not have to worry about the devastation that was all around them. They worked with the Parker Community School in Birmingham to coordinate and run the camp. The Rotary Club paid for everything. They contributed more than $80,000.00 for the program. There were 8 partners, 33
sponsors, 216 campers, 46 high school and college student employees, 37 adults (teachers, principal, secretaries, coordinator, lunchroom workers, custodial workers, counselors, and bus drivers), 191 volunteers and 84 drop-ins. The Rotary Club has given from the heart and has asked for nothing in return, therefore, we present them with the highest award given by the Alabama Community Education Association, the Charles Stewart Mott Award.